The United States has finally reported strong gains in payrolls after months of sluggish growth. However, in my view, the employment picture remains disappointing. Total non-farm payrolls have only recovered about 75% of the jobs lost during the pandemic.[i] The graphic below shows just how much payrolls have recovered from the steep losses during the pandemic, including a breakdown by sector.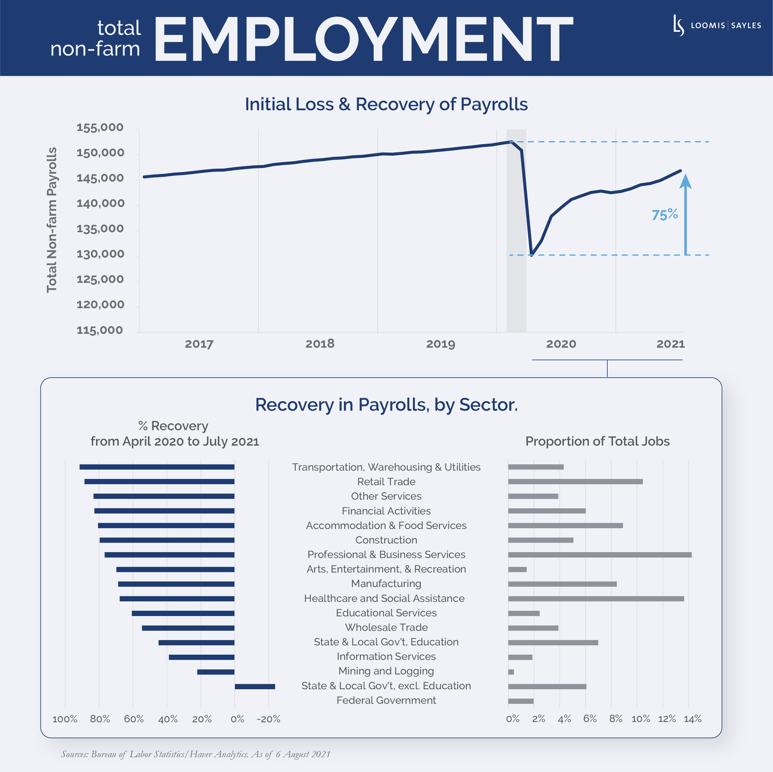 The pandemic's lingering effect on employment
I see three pandemic-related factors that have been holding back employment in the US.
1) Enhanced unemployment benefits. Some workers could be delaying a return to work while enhanced federal unemployment insurance remains available. Because the enhanced benefits are mostly tax-free, in some cases, they could generate a higher income than paid work that is subject to taxes. However, many states have started to curtail their participation in the federal program, which should help boost payrolls going forward.

2) Fear of infection. COVID-19 is still around and many people may fear infection. Vaccinated or not, the fear of infection (or transmitting the infection to a loved one) may keep some people from taking job offers, especially for jobs that involve a lot of close interaction with other people.

3) Worries about childcare. Some parents are not likely to return to work until they feel schools or childcare facilities will remain fully open for in-person attendance.
I expect these factors to wane in the coming months, leading to a boost in payroll gains in August and September. Enhanced unemployment benefits for all states will expire after Labor Day. Despite fears about the delta variant, schools and childcare facilities around the country are preparing to fully open for the next school year.
A measure of the economic recovery
Employment is a key measure of the US economic recovery. The Federal Reserve has stated that it wants the US to reach full employment before it hikes interest rates. Going forward, I'll be watching initial jobless claims and high-frequency data (such as mobility and credit card data) to confirm the recovery remains on track. Employment data is likely to be volatile, but I expect it to continue its long-term upward trend.


[i] Source: Bureau of Labor Statistics, Haver Analytics.
MALR027685
Used with permission from Haver. This material is for informational purposes only and should not be construed as investment advice. Information obtained from outside sources is believed to be correct, but Loomis Sayles cannot guarantee its accuracy. This material cannot be copied, reproduced or redistributed without authorization.
This blog post is provided for informational purposes only and should not be construed as investment advice. Any opinions or forecasts contained herein reflect the subjective judgments and assumptions of the authors only and do not necessarily reflect the views of Loomis, Sayles & Company, L.P. This information is subject to change at any time without notice.