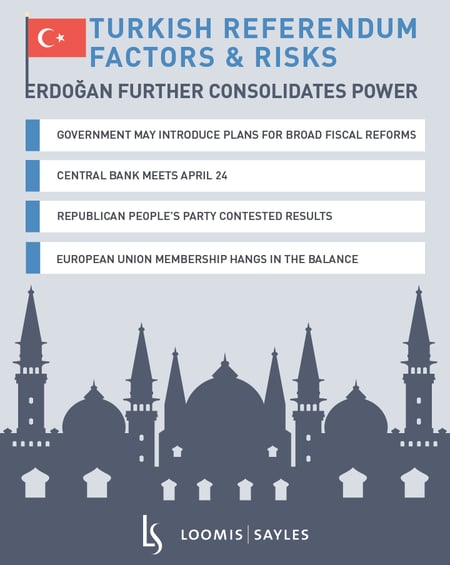 So far, the market's reaction to Turkey's historic referendum on the adoption of a national presidential system on April 16 has been positive, with local bonds and the currency rallying. Despite a slim margin, this was a major win for President Erdoğan and the Justice and Development Party (AKP). The results lead to further consolidation of power under Erdoğan, who now controls the media (TV, radio and news), the police and the judicial system.
I anticipated this result would be a favorable outcome for Turkish lira (TRY) and the bond market for the short term as it would eliminate a key lingering political uncertainty. However, longer term this result is likely to be quite negative for Turkey and there are still many questions to monitor.
In my view, the extent of the current rally will depend on the outcome of the following factors/risks:
I am skeptical about

Erdoğan's current claim

that he does not plan to hold early elections to further consolidate power. The move to a presidential system will not occur until the 2019 election, unless early elections are held. I think it is more likely that he will use whatever opportunity available to transition power as soon as he thinks he can win. Any reshuffling of the cabinet or an early election would likely be viewed as a negative by the markets.

Fiscal Policy:

The government may announce plans for broad list reforms, including labor, research & development, judicial, education, procurement, transparency, public finance, and tax collection. However, I remain skeptical that any meaningful reforms will actually occur following the referendum. Economic growth will likely continue to be the government's main focus.

Monetary Policy:

The central bank of the Republic of Turkey meets on April 24. This meeting will give us insight as to whether the Central Bank of the Republic of Turkey (CBT) adheres to their policy directive or succumbs to Erdoğan's wishes for lower rates. If the CBT caves to Erdoğan's pressure to cut rates despite escalating inflation, the TRY will come under pressure. If not, the TRY should be supported.

The

Republican People's Party (CHP)

contested the referendum results, but the election board upheld their position that results were valid. Progress towards this end may result in a reinjection of local political uncertainty, which would not be market positive.

Turkey's

EU membership

still hangs in the balance.

Erdoğan has commented about bringing back the death penalty, which would likely be deal breaker for the EU and could result in market pushback.
MALR017080
This blog post is provided for informational purposes only and should not be construed as investment advice. Any opinions or forecasts contained herein reflect the subjective judgments and assumptions of the authors only and do not necessarily reflect the views of Loomis, Sayles & Company, L.P. This information is subject to change at any time without notice.