Absentee voting by mail is not new. What's new is the global pandemic. There was a trend toward mail-in ballots even before COVID-19, but the pandemic has accelerated the transition. Requests for absentee ballots had already surpassed 2016 levels in nearly every state by the end of September,[i] suggesting a record number of mail-in votes in the upcoming election. However, a surge of mail-in ballots is likely to exacerbate a complex counting process. Some states have already faced lawsuits over mail-in ballots, and there may be more to come.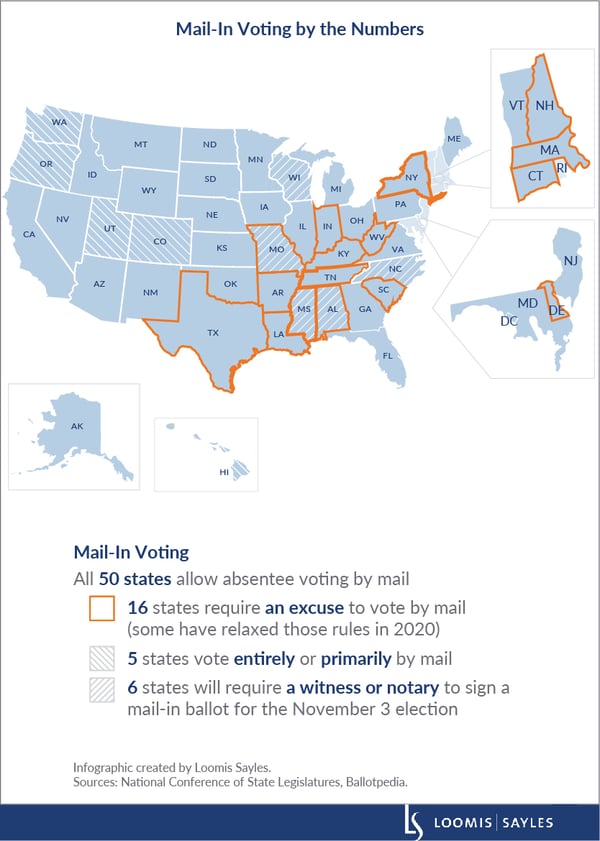 The potential challenges
Sending a ballot by mail may seem straightforward, but the rules can be complex. Many of these rules may be relaxed or challenged in light of the pandemic.

Deadlines: Typically, most states must receive mail-in ballots by Election Day, though some count them if they're postmarked by Election Day but received as many as 17 days later. Voting rights advocates have argued that an overburdened United States Postal Service may not be able to deliver ballots mailed on or before Election Day by the required deadlines. This is a hotly contested issue in certain battleground states, where moves to extend deadlines are facing legal challenges.
Postmarks: Most states require mail-in ballots to be postmarked by Election Day. Historically, any ballots received after the state-designated deadline without a postmark are discarded. Despite a pledge to postmark all ballots, the USPS failed to postmark all ballots in at least one recent primary election.[ii] Recent court rulings have allowed some states to ease the rules around postmarks, including extending postmark deadlines for mail-in ballots.

Witnesses: Some states have laws requiring a mail-in ballot be either signed by a witness or notarized. However, voting rights groups say that could pose a health risk for some voters during the pandemic. Multiple lawsuits are currently challenging those requirements, arguing the restriction is too high a barrier when voters are being told to reduce social contact because of COVID-19.
Ballot harvesting: In 10 states, voters can let a family member drop off their ballot. In 26 states, they can give it to someone else—such as a representative of a political party—in a practice called "ballot harvesting." Republicans have sued in California and Pennsylvania to restrict ballot collection, while Democrats have sued in multiple states to expand it.
Drop boxes: Many local elections officials responsible for collecting ballots have set up drop boxes for mail-in ballots in schools, libraries and community centers. The Trump campaign and the Republican National Committee unsuccessfully sued in Pennsylvania, noting that state law required ballots be dropped off at elections offices and arguing that expanding drop box sites "exponentially enhanced" the risk of fraud.[iii] Attempts to vandalize or destroy drop boxes have also been a problem in some locations.
Counting: There is a risk that a surge in mail-in voting could create problems with counting. States control the entire ballot-counting process. To deal with the surge, some states intend to start counting the ballots early, while others may wait until Election Day and let the counting go on for at least a week.
Waiting for the end
Unless there is a clear landslide victory by one candidate, we might not know the outcome of the election for weeks. It could take that long to get all the mail-in ballots and count them. In key battleground states, the winner could potentially win the state by just a few thousand votes. The election may be decided in states such as Pennsylvania, Michigan, Ohio, and Wisconsin, and possibly by a narrow margin. A narrow margin of victory could lead to recounts. The loser could accuse the winner of fraud and go to court.
The process of deciding the winner may cause anxiety and uncertainty until January. As I mentioned in my last post, extended uncertainty could be a strain on people and could add volatility to financial markets. And these issues may affect more than the election for president. Control of the Senate is in play also, and that control could depend on results from just a few states as well.
To make things more complicated, Georgia has two impending Senate races, one a regular race and the other a special election to fill a vacancy. If none of the candidates in those elections were to get an absolute majority of the vote (and we believe that seems likely), there would be run-off elections in January to determine the winners. The partisan control of the Senate could potentially hinge on the run-off elections in Georgia. In my view, control of the Senate is as important as control of the White House. If the Senate were to be controlled by a different party than the one in control of the White House, the Senate could look to block much of the White House's agenda.
[i] https://www.washingtonpost.com/graphics/2020/elections/early-voting-numbers-so-far/, as of 10/20/2020
[ii] https://www.nytimes.com/2020/08/03/nyregion/nyc-mail-ballots-voting.html
[iii] https://www.npr.org/2020/10/10/922673818/judge-blocks-trump-campaign-attempt-to-limit-use-of-drop-boxes-in-pennsylvania
MALR026275
Investment recommendations may be inconsistent with these opinions. There is no assurance that developments will transpire as forecasted and actual results will be different. Information, including that obtained from outside sources, is believed to be correct, but Loomis Sayles cannot guarantee its accuracy. Market conditions are extremely fluid and change frequently.
This blog post is provided for informational purposes only and should not be construed as investment advice. Any opinions or forecasts contained herein reflect the subjective judgments and assumptions of the authors only and do not necessarily reflect the views of Loomis, Sayles & Company, L.P. This information is subject to change at any time without notice. Information obtained from outside sources is believed to be correct, but Loomis Sayles cannot guarantee its accuracy. This material cannot be copied, reproduced or redistributed without authorization.