UK politics are not stable after last week's general election. When Prime Minister Theresa May called for a snap election in April, she sought to reaffirm her political mandate as Brexit negotiations launched. However, May now finds herself hanging on to power by a thread, having lost the Conservatives' governing majority in Parliament.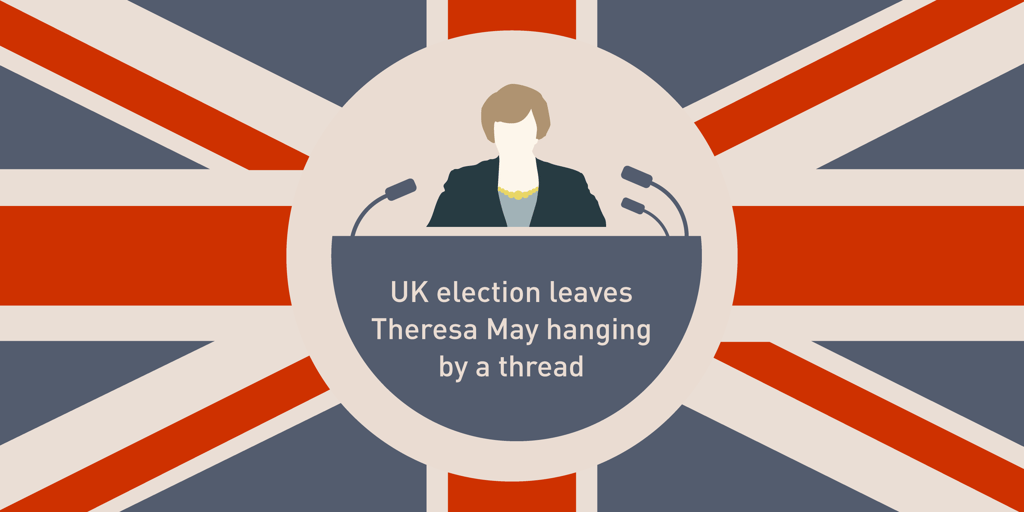 What's Next
For now, May will seek to run a minority government with enough support from the Democratic Unionist Party of Northern Ireland to pass legislation. While May retained her leadership after her first meeting with fellow Conservative Members of Parliament, there may well be drama inside the Conservative Party that could play out in coming weeks and months, with potential for new party leadership and even fresh national elections.
As we saw last year, the Conservative Party is capable of serious drama. Remember that Prime Minister David Cameron resigned after losing the Brexit referendum—a vote that he had called—in June 2016. After Cameron resigned, heir-apparent Boris Johnson was undermined by former ally Michael Gove, who in the end was outmaneuvered by Theresa May. "House of Cards" and the Trump White House have nothing on the Conservatives.
A Moderate Path on Brexit
In the wake of last week's election, May fired two key strategy advisors; she seems unable to execute a wholesale cabinet reshuffle and instead has made more minor changes to her cabinet. Prospects for a more moderate approach to Brexit have increased with the moderate Philip Hammond still in place as Chancellor of the Exchequer and pro-EU Damian Green being appointed First Secretary of State, a role that makes him second-in-command to the PM.
Bigger picture, the resurgence of the Labour Party as a counterweight to the Conservatives and voters' apparent rejection of May's approach to Brexit also appear to create more space for a moderate path. Under most imaginable political scenarios from here, the UK government will likely work toward a more middle ground and a functional relationship with the EU. The election results suggest voters were unsettled by fears that Brexit could isolate the UK economy from the EU's single market and frustrated with the UK economy's weak economic performance in early 2017. We also expect the UK government to deploy additional fiscal stimulus to support growth.
The UK and EU are scheduled to begin Brexit negotiations next week, and they have already begun "talks about talks" to establish the format, frequency and logistics for negotiations. We expect the process to be messy, with far more noise than signal. The EU wants to negotiate the divorce first and the subsequent relationship second, while the UK seeks simultaneous negotiations. Recall that the process is governed by the Article 50 of the EU Treaty, which is rather light on details, leaving fertile ground for legal challenges, particularly given that the UK alone has three distinct legal systems (Scotland, England and Wales, and Northern Ireland). While Article 50 establishes a two-year time frame to exit, set to expire in March 2019, we expect that timeframe may prove flexible as the two sides negotiate a transition agreement that could last as many as ten years thereafter.
MALR018801
This blog post is provided for informational purposes only and should not be construed as investment advice. Any opinions or forecasts contained herein reflect the subjective judgments and assumptions of the authors only and do not necessarily reflect the views of Loomis, Sayles & Company, L.P. This information is subject to change at any time without notice.