This was my 14th year attending the Detroit auto show (North American International Auto Show) wearing my auto analyst's hat. Ironically, as a result of the plethora of bankruptcy filings that engulfed the industry about a decade ago, culminating with the filings and government bailouts of GM and Chrysler, the condition of the industry is generally pretty healthy. Virtually every global manufacturer (or original equipment manufacturer – OEM) is currently profitable.
1. Self-driving cars and technological leaps
Semi-autonomous technologies which enhance safety and the driving experience
Improved vehicle connectivity: vehicle becomes a device to interact with personal electronics and OEMs
Fully self-driving vehicles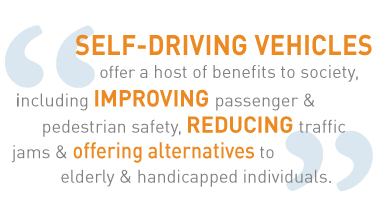 Fully self-driving cars are likely to become a reality in 5 to 7 years! Assuming regulatory and insurance concerns are satisfied and the public infrastructure is developed, self-driving vehicles offer a host of benefits to society, including improving passenger and pedestrian safety, reducing traffic jams and offering alternatives to elderly and handicapped individuals.
2. A continued focus on fuel efficiency
What do plummeting oil prices mean for the drive to fuel efficiency?
The industry remains tremendously focused on improving fuel economy and reducing vehicle emissions, as required by current government mandates around the world. However, plummeting gas prices have caused many industry analysts to worry that fuel economy will become a lower priority for the driving public, thereby thwarting the ability of the industry to recoup the cost of its investments in alternative technologies, be it hybrids, plug-in electrics, and fuel cells, as well as various governments' desire to reduce fuel consumption.
The general view among industry participants is that the current low price of gas is not sustainable over the long-term and that it is both impractical and imprudent to make dramatic changes in multi-billion dollar investment decisions based upon a likely short-term phenomenon. The government has not given any indication that it intends to ease its current requirements of 54.5 miles per gallon by 2025, although there is increased speculation that the industry may seek some concessions in 2017 (when the current legislation allows a review).
3. Keep on truckin': Manufacturers launching new trucks and SUVs
Lower gas prices and improved economic conditions in the US, combined with the launches of many new pick-up trucks and SUVs/CUVs are contributing to a real shift in customer preferences away from smaller passenger cars.
Manufacturers that have been under-represented in these segments have already suffered market share declines and they are busy updating and expanding their offerings in these now popular segments. Even Hyundai unveiled a "concept" pick-up truck designed to appeal to younger drivers and families.
MALR012806
This blog post is provided for informational purposes only and should not be construed as investment advice. Any opinions or forecasts contained herein reflect the subjective judgments and assumptions of the authors only and do not necessarily reflect the views of Loomis, Sayles & Company, L.P. This information is subject to change at any time without notice.