The homebuilding and building products industries have held up quite well during this economic downturn compared to the material negative impact they experienced during the global financial crisis. After an initial demand shock resulting from shelter-in-place orders, housing activity has been trending more positively than I would have expected in May and June.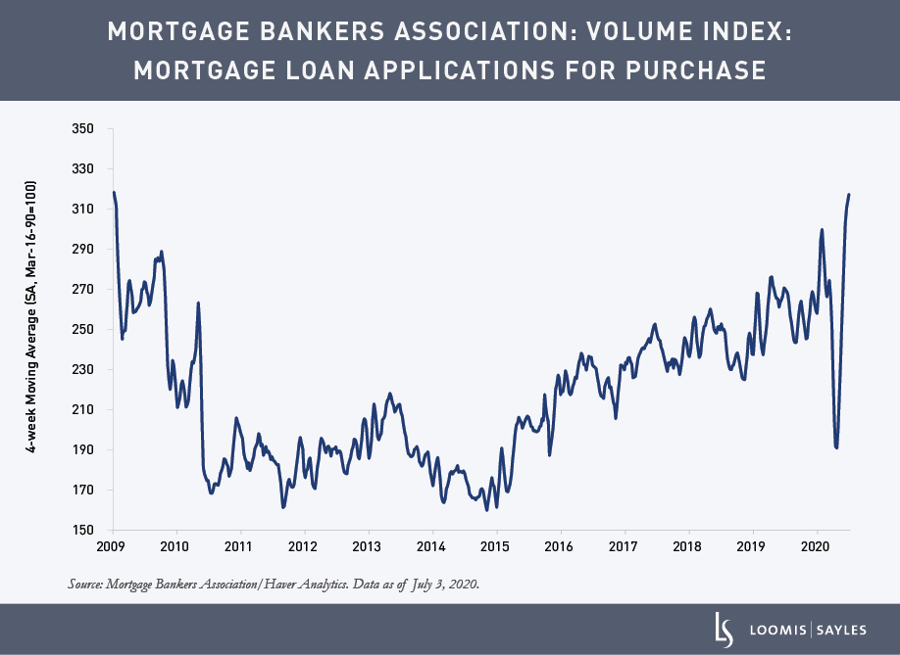 Is this a real positive trend, or just delayed demand from the spring lockdown period?
It's likely a mix of both. Activity that was suspended in March and April during state shutdowns likely picked up again in May and June. That said, key supports for the housing industry have remained strong throughout the pandemic, including historically low mortgage rates, strong affordability, limited new and existing home supply, stable to rising home prices, and favorable demographic trends (millennials are in their peak home-buying years). I believe these supports should translate into greater demand for homes and building products.

How have their balance sheets held up?
Many homebuilders and building product companies were well-positioned for the current recession, with balance sheets and liquidity stronger than they were heading into the global financial crisis. Most companies have enough cushion in their credit metrics to withstand some deterioration while maintaining their existing credit ratings. A number of companies have tapped the bond market at attractive rates over the past few months, largely to refinance near-term maturities, but with some building additional liquidity.
Could there be any lasting effects from the pandemic?
In my view, COVID-19 may have pushed some fence-sitters into buying now and could explain the better relative performance of homebuilders with more speculative inventory versus those with a build-to-order strategy. Some management teams believe COVID-19 has increased the desire for the safety of single-family homes (away from multi-family living) and increased demand for the suburbs (away from urban centers). Also, consumers have been investing in their homes during the pandemic with exterior products and smaller-ticket items benefiting from nesting at home. It remains to be seen if the pandemic will be a major driver of long-term single-family home demand. However, if a permanent shift to working from home materializes, increased demand for suburban living with home office space would further support the solid housing outlook.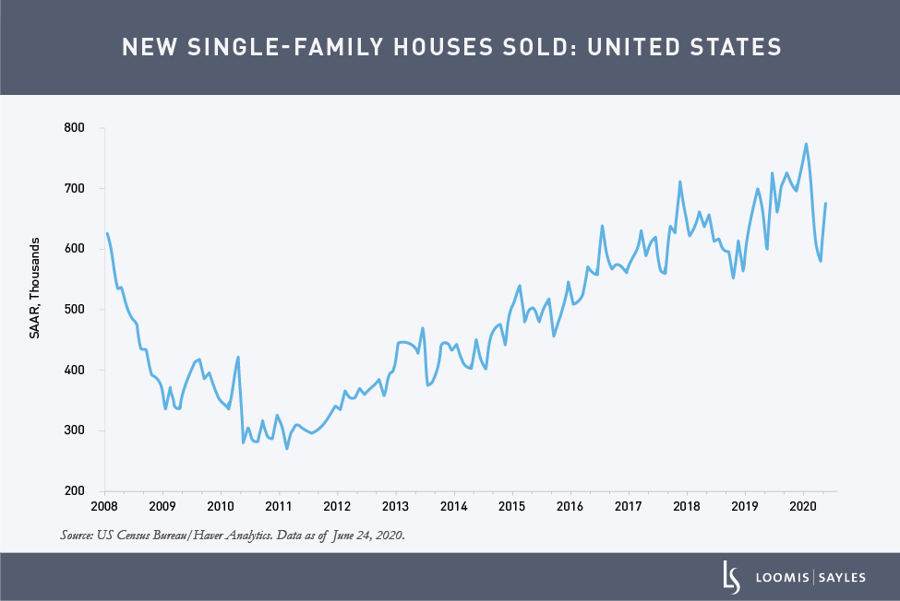 What are you watching?
The pandemic hit just as the important spring selling season commenced. While housing activity has been stronger than expected, the elevated level of unemployment and the end of government stimulus bear close watching as we head into the second half of the year.
MALR025683
Charts used with permission from Haver. This material is for informational purposes only and should not be construed as investment advice. Information obtained from outside sources is believed to be correct, but Loomis Sayles cannot guarantee its accuracy. This material cannot be copied, reproduced or redistributed without authorization.
Past performance is no guarantee of future results.
This blog post is provided for informational purposes only and should not be construed as investment advice. Any opinions or forecasts contained herein reflect the subjective judgments and assumptions of the authors only and do not necessarily reflect the views of Loomis, Sayles & Company, L.P. This information is subject to change at any time without notice.