Some headlines from our recent global asset allocation team (GAAT) meeting:
1. Go International for Government Bond Exposure
Overweight international government bonds versus the US remains a strong theme based on our expectation for continued US growth improvement. We've seen almost straight line underperformance for US Treasurys versus global government bonds, yet find it hard to identify a catalyst for a reversal at this time.
2. Bullish on the Dollar
Yes, the US dollar has had a big run against the major currencies and may be due for consolidation. However, we believe cyclical trends, valuations and interest rates still favor the dollar.
3. Opportunities to Invest Broadly in Equities
The bull run in stocks should continue with the backdrop of low yielding fixed income alternatives but a main theme is to invest broadly. We are neutral to positive on all markets. We currently prefer US equities over international equities and have upgraded our outlook on small and mid-cap US stocks given their recent under performance.
We're more cautious on Europe as earnings have failed to register but perhaps the decline in the Euro can provide a much needed lift because the European equity rally has so far been mostly driven by P/E multiple expansion.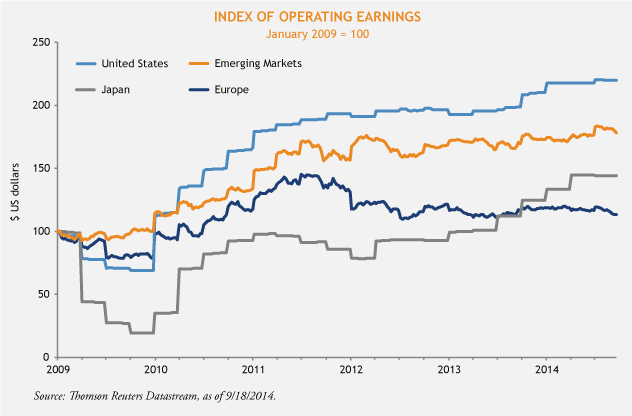 4. Bank Loans vs. High Yield
We believe bank loans will be challenged to beat the high yield sector on a total return basis going forward. As of September 2014, the wider spreads in high yield, as represented by Barclays High Yield Index, have bumped 12-month total expected returns into the 5.5% range, compared to bank loan expected returns around 4%.
However, on a risk-adjusted basis bank loans currently look more favorable. Bank loans are senior in the capital structure and are floating rate securities. A strong collateralized loan obligation (CLO) bid for leveraged loans provides a solid tailwind.
5. Opportunities in Securitized Markets
Asset-backed securities (ABS) look attractive now versus short investment-grade corporate bonds.
We also believe residential mortgage-backed securities (RMBS) are very attractive. Overall, there is good yield and low supply. Quality in this sector has been improving.
6. Corporate Emerging Markets Risk Premium
The emerging markets risk premium in the JPMorgan Corporate Emerging Markets Bond Index (CEMBI) has been persistent in the last few years and is worth a serious look for yield starved portfolios.
MALR012353
This blog post is provided for informational purposes only and should not be construed as investment advice. Any opinions or forecasts contained herein reflect the subjective judgments and assumptions of the authors only and do not necessarily reflect the views of Loomis, Sayles & Company, L.P. This information is subject to change at any time without notice.