Brazil's presidential election on October 5th was previously seen as sewn up by the incumbent, President Dilma Rousseff. However, when presidential challenger Eduardo Campos was killed in a plane crash in August, the competitive landscape changed. Campos' popular running mate, Marina Silva, has surged in the polls since the summer and seems poised to face Rousseff in a runoff election on October 26.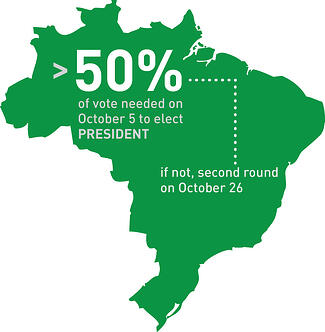 The daughter of rubber tappers in rural Brazil, Silva was illiterate until she was 16 and rose out of poverty to become the Environmental Minister under President Luiz Inácio Lula da Silva. This background gives her a natural connection with low-income voters, but Silva has supporters across all income levels. She is publicly supported by the Setubal family, heirs to the Itaú banking fortune and current polls indicate improvement with middle class voters.
As Silva continues to perform well in pre-election polls, comparisons are being made to the recent election of Indian Prime Minister Narendra Modi, who is widely praised for his economic reforms.
Would Silva's election set Brazil up for success and sustainable economic growth – would Silva provide Brazil its own "Modi Moment?"
Silva has a strong macro team, but lacks a reform agenda
Brazil is currently suffering from a confidence crisis. There are a host of bad economic policies in place, including widening fiscal deficits, accounting gimmicks, excessive, costly and unnecessary foreign exchange intervention, and micromanaged policy making. Silva could establish baseline confidence by appointing strong leaders to run the Central Bank and Ministry of Finance.
Marcos Lisboa, a US-trained economist, former undersecretary of Brazil's Ministry of Finance and banking executive, is now part of Silva's economic advisory group.
Henrique Meirelles, the former central bank governor who has been praised by the markets, has also offered to throw his support behind Silva.
In addition, her team recently announced they would be willing to break with Mercosul (the regional trade bloc comprised on Argentina, Brazil, Paraguay, Uruguay, and Venezuela), in order to establish bilateral trade deals, a key move that would open the characteristically closed Brazilian economy.

While strong advisors and orthodox monetary and fiscal policy is good for Brazil, it only brings it back to the stage it was in during the Lula administration when reasonable policies still prevailed. Brazil now not only suffers from a confidence crisis, but also requires deep structural reforms in order to put it back on a path of sustainable growth. Some of these reforms include:
Infrastructure investment
Fiscal reform
Pension reform
Tax reform
Tackling corruption, which conservatively costs 2.3% of GDP, according to a 2013 Institute Avante Brazil study
Markets might rally on a Silva win, but it's not yet a "Modi moment"
Silva's election would be a step in the right direction for Brazil. That said, this doesn't appear to be Brazil's "Modi Moment" – yet. There is still time for Silva to develop a reform agenda, and if elected, we hope that she will tackle the structural challenges that would strengthen the Brazilian economy.
This blog post is provided for informational purposes only and should not be construed as investment advice. Any opinions or forecasts contained herein reflect the subjective judgments and assumptions of the authors only and do not necessarily reflect the views of Loomis, Sayles & Company, L.P. This information is subject to change at any time without notice.